Check out all of the talented contributors featured in the first issue of Camel Toe: The Zine. 
Sandra Contreras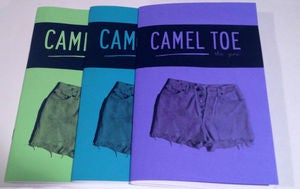 Find Sandra's portfolio, including fashion illustration, pattern design, photography, and web design, online at haciendochiribitas.net.
Steph Gallaway
Steph Gallaway is a derby grrrl, anglophile, and videographer making it happen in Nebraska. Follow her on Twitter @skgway for all of the derby and pop culture tweets you can handle.
Amber Gerencher
Amber Gerencher is a writer, singer, and comedy person in Chicago. Follow her on Twitter @amberag because she only retweets the best of the internet.
Rachel Lebo
Rachel Lebo is a writer, skilled yarn-crafter, and co-parent of 8 Days a Geek. Find her on Twitter at @cautiontape.
Chelsea Martin
(from jerkethics.com)
chelsea martin "studied" art and writing at california college of the arts (though she holds no degree because she owes $300 in tuition)
both her first book, everything was fine until whatever (future tense, 2009) and her second, the really funny thing about apathy (sunnyoutside, 2010), continue to be huge sources of stress for chelsea, particularly when someone asks her what her books are about or if they're poetry or what, or when someone quotes something from one of them to her and she doesn't recognize it as her own writing
she is currently living in oakland, california and working on something angry
also, she is the creative director at universal error.
Molly Pearson
Molly Pearson is an all-weather commuter cyclist, and believes that active transportation helps women embrace what their bodies can do, rather than obsess over how their bodies look. She loves felafel and ice cream, and is always searching for the perfect sports bra.
Gabrielle Pope
Gabrielle Pope is a writer and cider-slinger living on an island in Canada. She spends her free time thinking about food, eating food, and craving sandwiches.
Kitty Stryker
Kitty Stryker is the founder of ConsentCulture.com, a sex klown, and a faggette, with one high heeled boot in London and one in San Francisco. She talks about the intersections of queerness, feminism, and sexuality at venues as varied as SXSW, Feelmore510, and Artwank!, as well as writing for the Huffington Post, Good Vibrations Magazine, and the late Filament Magazine. In her copious free time, she performs with the queer live sex show Cum & Glitter and debates politics with her fiance.